On November 23, the 86th China International Medical Equipment Fair (CMEF) was grandly opened at the Shenzhen International Convention and Exhibition Center! Assure Tech joined hands with constant temperature nucleic acid detector, single-serving chemiluminescence immunoassay analyzer, automatic fluorescence immunoassay analyzer, portable coagulation analyzer and other new products to appear at the exhibition site, attracting many visitors to stop and learn.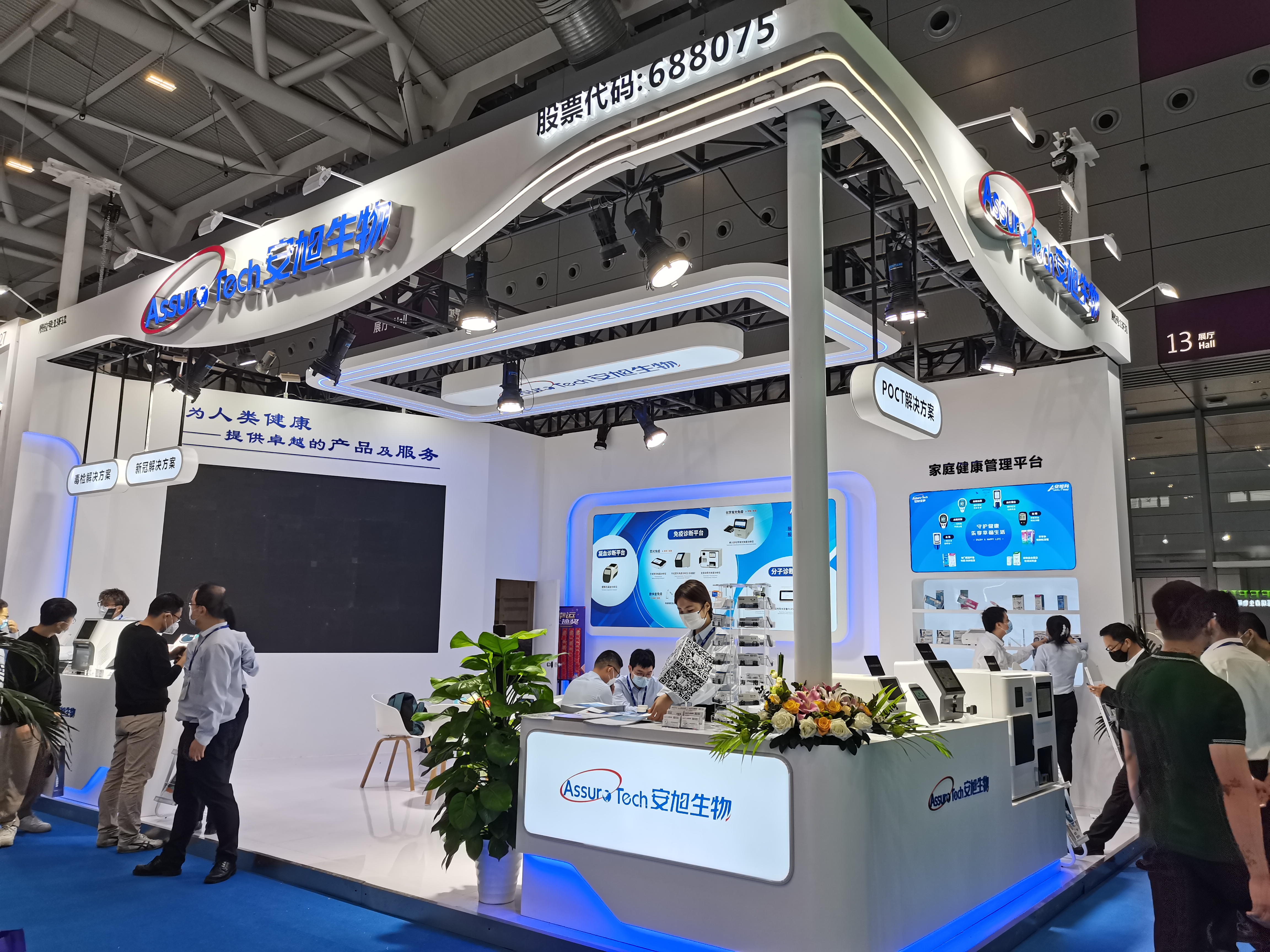 Immunodiagnostic solutions attract attention
The new TFL2000 automatic fluorescence immunoassay analyzer launched by Assure Tech made a big debut, attracting the attention of many audiences. TFL2000 automatic fluorescence immunoassay analyzer adopts time-resolved fluorescence method, which not only has the advantages of fluorescence method, but also has the advantages of strong stability, long life, high sensitivity and easy distinction of specific and non-specific fluorescence.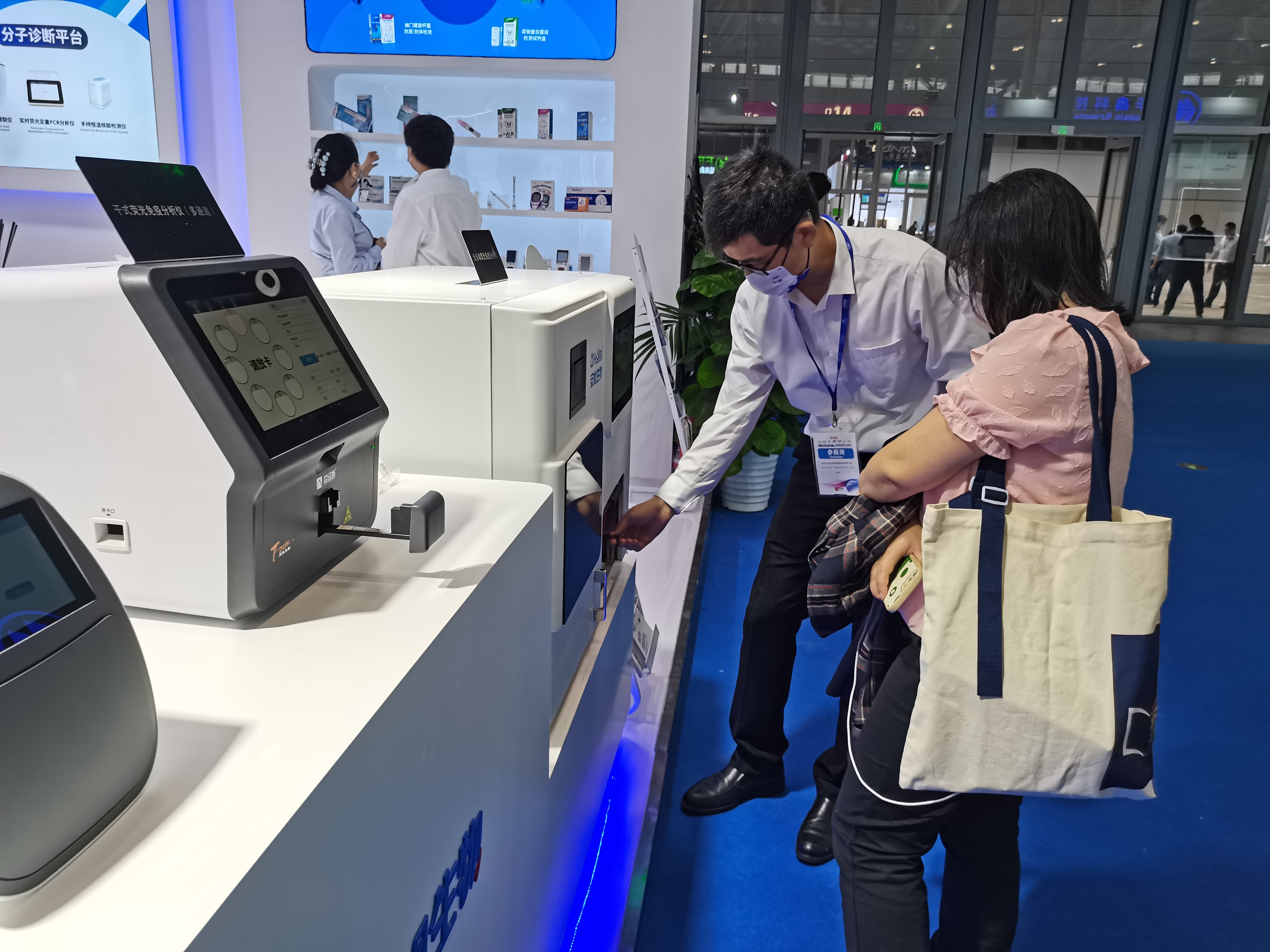 The fluorescence immunoassay analyzer adopts an innovative measurement system, the dual-track design can detect 50 samples at the same time, has 25 independent incubation chambers and ADP liquid-free solution. Supports automatic sample addition, no manual sample addition, samples can be directly loaded on the machine, single sample multi-item is supported, consumable status can be updated in real time, consumables can be replaced by a single machine, and multiple reagents can be used for detection.
Coagulation diagnosis platform, newly launched
Blood coagulation detection is a must-test item before and after surgery, hospitalized patients and patients with blood diseases. It is a necessary means for clinical medical accident prevention and postoperative monitoring, and has important clinical value.
On the opening day of CMEF, Assure Tech launched a new portable coagulation analyzer and its supporting five coagulation test cards, including prothrombin time (PT), activated partial thromboplastin time (APTT), thrombin time (TT) , fibrinogen (FIB) and D-dimer (D-Dimer) five items.
Assure Tech has adopted optical coagulation method and immunoturbidimetry to further improve the coagulation solution, which can detect various coagulation indicators more comprehensively and flexibly. Compared with semi-automatic coagulation testing equipment, portable coagulation analyzers with a higher degree of automation are more suitable for use in most specialized clinics and primary hospitals in underdeveloped areas. The main subsequent application scenarios of the portable coagulation analyzer are primary hospitals, medical beauty hospitals, dental clinics, emergency departments and ICUs.
Diagnosis solutions for respiratory diseases, more comprehensive and effective
In addition to displaying real-time fluorescent quantitative PCR analyzer and automatic nucleic acid extractor, Assure Tech also unveiled a more convenient handheld constant temperature nucleic acid detector in this exhibition.
In addition, Assure Tech also launched home self-test products: new coronavirus and influenza A/B antigen nasal detection kit (self-test), influenza A-influenza B-respiratory syncytial virus-adenovirus-new coronavirus Virus joint detection kit. Make the detection range of respiratory diseases more comprehensive and effective.